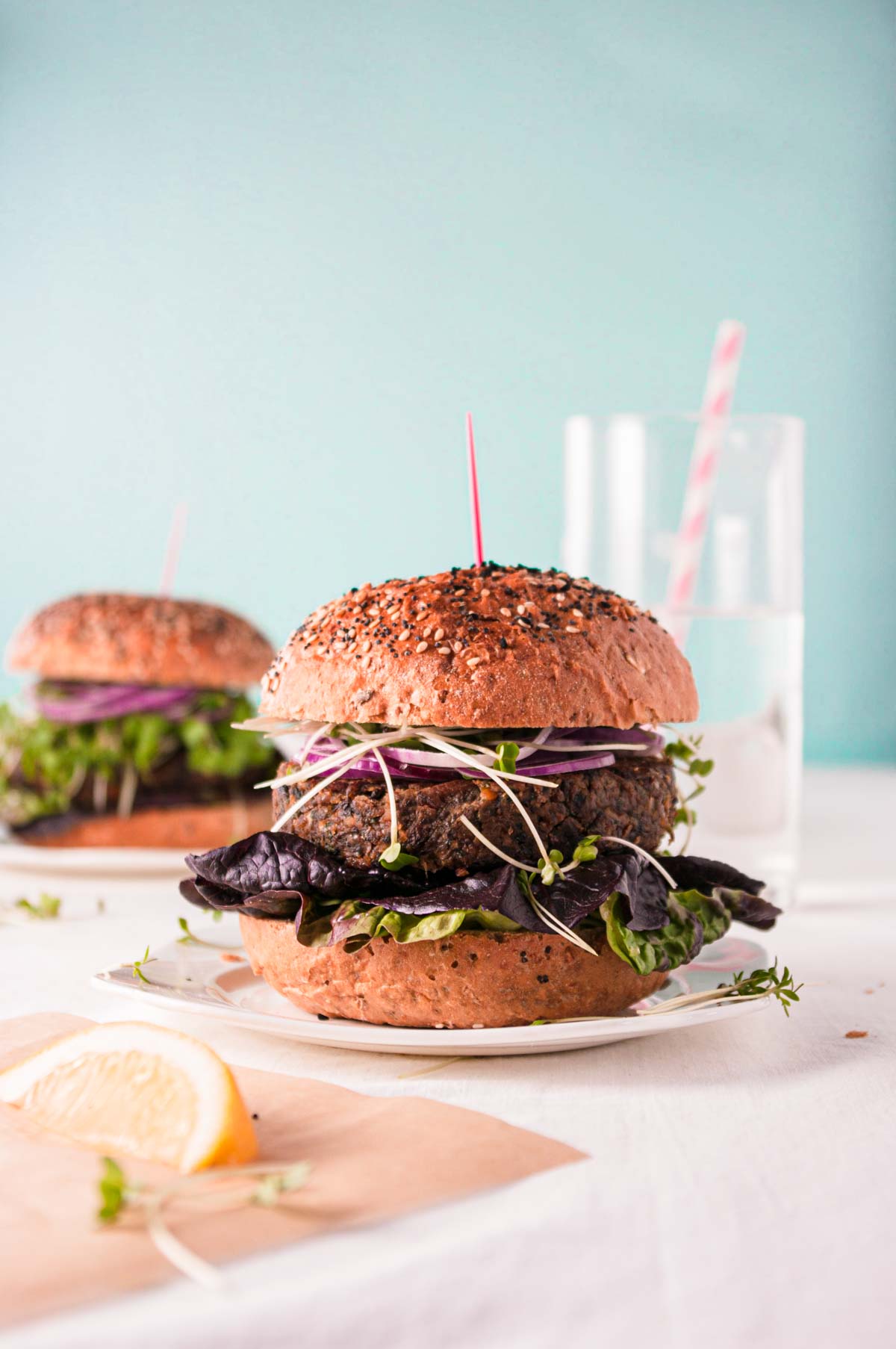 These mushroom burgers are filled with sautéed chestnut mushrooms, chickpeas, walnuts, onions and herbs – a veggie burger taste sensation!
I do love veggie mushroom burgers. It's not the replacement of meat that I am looking for – a great veggie burger is so much more than that. A hearty, tasty warm sandwich, perhaps with a little melted cheese and if I'm feeling jaunty, a fried egg. Crunchy salad, the judicious application of some mustard or aioli… All between a crusty sourdough bun. Okay, perhaps you can't pick it up and eat it with your hands, once all my additions are loaded on, but the flavour combinations stand. Burgers rock.

For me, a good veggie mushroom burger is not made with a questionable soy meat substitute or a deep-fried monstrosity of breaded frozen carrots and peas. But it is protein-heavy. I'm already planning on sticking it in a bun, so for me starchy potatoes, grains and the like have no place in a my burger.
The more actual vegetables in my veggie burger, the better (check out another of my veggie-loaded burger recipes, Courgette burgers with feta and Portobello mushroom burgers with aubergine)
So my thoughts turned immediately to mushrooms when designing this dish. Cooked down, with the moisture drawn out, you can pack a lot of mushroom – and a lot of flavour – into one burger. And although I am resolutely not trying to imitate a carnivore burger here, mushrooms definitely have a meaty flavour and texture that feels appropriate.
If you are lucky enough to make a massive glut of wild mushrooms (yeah, right!), don't let me stop you from using them, but this recipe calls for a very large quantity of mushrooms, so you may want to save your expensive, luxury 'shrooms for a fancy garnish.
Having said that, your choice of mushrooms is important. I strongly recommend that you use brown mushrooms (or chestnut mushrooms, or cremini mushrooms, whatever you like to call them!). They really do have so much more flavour that white mushrooms. On the very rare occasions that I am forced to cook with white mushrooms, I am crushingly disappointed by the lack of taste. Even if I sear the living daylights out of them, ramp up the garlic and season, season, season, they are still comparatively watery.
Did you know that all the commercial mushrooms we ate used to be brown? The white mushroom was a genetic aberration that when discovered was seized upon and aggressively bred as an exotic alternative. It has now taken over, why I will never know. Perhaps because white looks cleaner?

For this mushroom burger, the mushrooms are chopped into small pieces (to create more surface area) and well browned. You can do this in batches in a frying pan, but I find it infinitely easier and less time consuming to roast the mushrooms in a hot oven instead. I find two baking trays is sufficient, even for this large amount of mushrooms, and all they need is a stir every so often.
The point of this step is both to evaporate as much water as possible from these moisture-heavy vegetables and to brown them. The browning dramatically heightens the flavour of the mushroom – this holds true for absolutely all fungi preparations – caramelising sugars and adding deeper, more complex layers of lovely flavour. No matter what the dish, I always take the extra time to sear my mushrooms in this way, before proceeding with whatever other preparation they need. It is fine to do this completely without fat – a dry roast or sauté is my preferred method – and the difference really is worth it. Once you start, you won't go back.
I paired the mushrooms in this mushroom burger recipe with lots of fresh basil. This classic combination is fabulous. To my surprise, I also felt the basil highlighted the meatiness of the mushrooms – I'm not really sure why. The basil flavour really accented this dish, so I wouldn't recommend leaving it out, or drastically reducing the amount, but if you fancy a different flavour profile, by all means substitute it for another fresh herb.
Some walnuts and chickpeas are also included in this dish to bulk out the mushrooms, but they are not the main source of flavour here. I haven't tried it myself, but I'm sure you could substitute other nuts or beans.

I used chickpeas that I had cooked from dry (I soaked and boiled a massive batch, then froze them in portions for later use). I haven't tried them with tinned chickpeas. They would probably be fine, though sometimes tinned chickpeas are a little softer than those you cook yourself. Please do let me know how it turned out if you make this substitution.
Instead of using an egg and/or flour to bind these mushroom burgers, I opted for flax meal. This option is not only vegan, gluten-free and packed with nutritious omega-3s, it is much more effective. The ground flax seed is mixed with a little water and left for about half an hour until the gelatinous seeds absorb the water, making a viscous liquid. This paste really is amazing at sticking things together!
All the ingredients for these mushroom burgers are cooked in advance and roughly ground before adding the flax binder. The final step, before shaping them, is to pulse it all a few times in a food processor. This step really brings it all together in a way that simple hand mixing cannot, even though the ingredients are already is quite small pieces. It turns a fairly loose mixture which does not really hold together into a moist, easy to shape burger mix.
To give these mushroom burgers the very best shape, I use my hands first, then wrap them individually in clingfilm. Once they are wrapped. they can be given another press and shape, evening out any cracking in the side – this is much easier with this method. I then rest them in the fridge for an hour or so to allow them to set properly. They will sit quite happily in the fridge for several days or you can put the wrapped burger patties in a plastic bag or container and freeze them for several months. I always make a large batch and freeze them, as it's such a satisfying and healthy meal to have on hand (unless you serve them with a massive quantity of chips/fries that is). Let them defrost in the fridge before using.
There is no problem at all with cooking these patties. They hold together beautifully, even when cooked in a very light film of oil – just make sure you use something a bit non-stick (I used a cast iron skillet). I haven't tried them on a barbecue, but I see no reason why they wouldn't be excellent. No second-rate, sad-looking vegetarian option in your barbecue!
One, very minor, word of warning. They do squish a little when chomped down on. They are still absolutely delicious, but when pressed between a super crusty bun (as I did) there is a chance of you losing a bit of your burger out the other side. There are two options here. You can either just pick the bit of burger up and shove it in your mouth (my preferred option) or you can use a softer bun for your mushroom burgers. You will then have no problems at all.
Obviously, you can serve these burgers with any kinds of toppings that take your fancy. I have had them with avocado, roasted peppers, fresh red onion, cheese and salad on various different occasions and they were all wonderful.
As mentioned earlier, a fried egg would also be a great addition. Serve with a big salad for a healthy option or with my Oven-roasted spicy potatoes or Parmesan potato wedges, for a heartier meal. Oooh, or with a side of macaroni and cheese for the very decadent. That would be lovely…
What does your ideal veggie burger look like?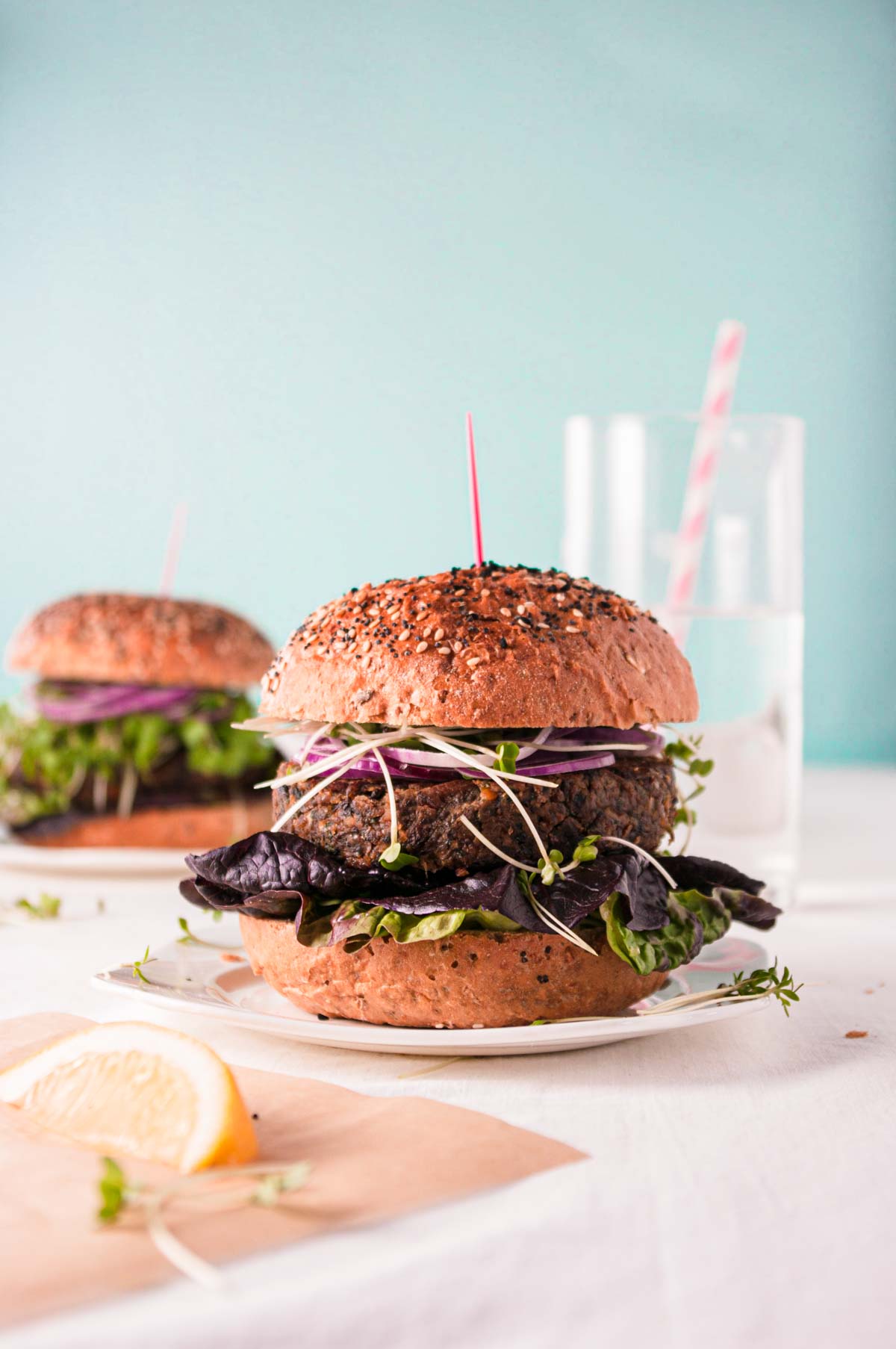 Mushroom burgers with chickpeas
An all natural, protein-rich veggie burger packed with nutritious - and DELICIOUS - ingredients.
Ingredients
1

kg

chestnut mushrooms

1-2

onion

diced 1cm

3

garlic cloves

crushed

300

g

cooked chickpeas

80

g

walnuts

50

g

or one medium bunch basil leaves

12

g

or 2 heaped teaspoons ground flaxseed

1

teaspoon

sea salt

freshly ground black pepper

to taste
Instructions
Preheat the oven to 230c. Chop the mushrooms into small pieces. You don't need to be very precise about this, but the pieces should be less than 1cm square. Scatter over two baking trays and bake, stirring occasionally, until the mushrooms are browned and there is no water pooled on the tray - about 30 minutes. Set aside in a large bowl.

Mix the ground flaxseed with enough water to cover and set aside - it will thicken up while you prepare the rest of the ingredients.

Sauté the onions over a medium heat until they start to soften, then add the garlic. Continue to cook until both are softened, translucent and fragrant, about 15 minutes. Add to the mushrooms.

In a food processor, pulse the cooked chickpeas to crumbs - it's okay if there's a few whole chickpeas left. Add to the mushroom mixture.

Add the walnuts to the food processor and pulse to crumbs. Add to the mushroom mixture.

Chop the basil fairly finely and add to the mixture.

Add the flaxseed binder to the mixture. The easiest thing here is to mix it all with your hands to make sure the binder is evenly distributed.

At this point, the mixture will still feel fairly loose and will be quite difficult to press together with your hands. Return the whole mixture to the food processor, working in a couple of batches if you have a small machine. Pulse a few times until the mixture looks lighter and more homogenous - some chunks are fine. Try and press some together with your fingers. It should stick together easily, but if it doesn't, pulse until it does.

Return to the bowl and add the seasoning, mixing thoroughly with your hands. Taste the mixture and make sure the seasoning is correct.

Shape the mixture into patties - I got 8 large (8-9cm) burgers from this quantity. Wrap each patty in a small piece of clingfilm - once the burger is wrapped in clingfilm it is easier to shape into a perfect round, if that's what you want. Refrigerate for about an hour for them to firm up, or freeze for future use.

When you are ready to cook them, heat a thin layer of oil over medium heat in a heavy frying pan. Something nonstick is good - I used a cast iron skillet. Cook on both sides until nicely browned. All the ingredients are already cooked, so you are just reheating and adding some nice colour and crispy texture to the burgers.

Serve however you like your burgers! I added cheese, roasted red peppers and avocado, and served on a sourdough rye bun with a big green salad.
Notes
The burgers hold together very well when cooked, but when chomped down on they squish a little. The best way to avoid this is to use a softer bun - I used a very crusty bun which put a lot of pressure on the burger when the two halves were pressed together. It was still freakin' delicious though, so I only include this information so you can make an informed choice!