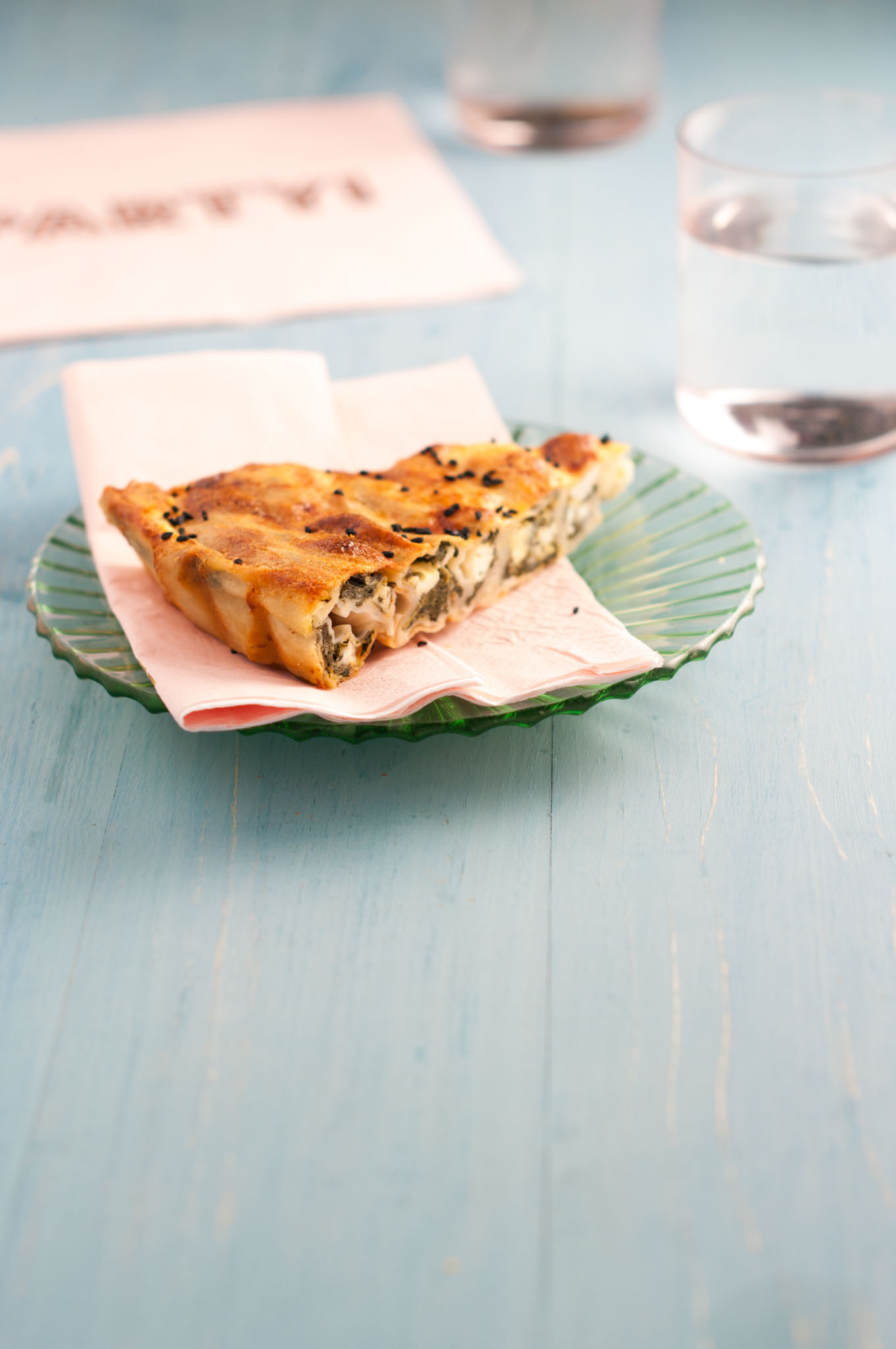 An incredibly delicious spinach and feta pie recipe, stuffed with plenty of vegetables and wrapped in homemade filo dough. Great summer party food.
This is, without a doubt, the best spinach and feta börek I have ever eaten, anywhere. Either from my own fair hands or from someone else's. I am frankly embarrassed at what I have served people in the past under the name of "börek". Sorry about that!
The secret is rolling out the pastry with a pasta machine. I thought my rolling skills were sufficient, that the pieces of pastry I had created were thin enough. Not even close. I think my 'thin' sheets were actually about 5 times too thick. So a pasta machine is the answer, rolling the pastry out incrementally to the 6th or 7th setting. The 7th setting is best, but the dough is quite hard to work with at that thickness.
With the delicacy of the dough in mind, be sure to keep everything well floured. Don't go crazy or anything, it's always best to use a little flour as possible to complete the task at hand, just sprinkle a light coating of flour over everything regularly, bearing in mind this dough is very keen to stick to both the pasta rollers and your worktop. Both of these scenarios are extremely frustrating.
Rest assured though, that the neatness of the pastry is not important as everything will be folded over and coiled around – don't worry about tears (unless they're yours!) or misshapen pastry. However, to further mitigate against sticking, roll out and fill only one sheet of pastry at a time. Be sure to keep the rest of the dough loosely covered while you work so it doesn't dry out.
Makes an enviable packed lunch or splendid picnic spread.
Spinach and feta pie
Delicate layers of handmade filo pastry generously stuffed with spinach and feta.
Ingredients
half batch of filo dough

300

g

fresh spinach

200

g

feta

crumbled

2

eggs

fresh herbs – whatever you have

big squeeze of lemon juice

1

tsp

dried oregano

fresh or dried chilli

to taste

a little salt

to taste

lots of black pepper

to taste

knob of butter

melted

2

heaped tbsp Turkish yoghurt
Instructions
Wilt the spinach in a large pan with a little salt. When wilted, leave to cool then squeeze out as much of the water as possible – this is easiest using a tea towel. Add the feta, 1 of the eggs, fresh herbs and chilli and mix well with a fork. Taste the mixture to check for seasoning.

Use a little of the melted butter to grease the bottom of your baking dishes or trays.

Cut the filo pastry into eight pieces. Working one piece at a time, shape a piece of filo dough as best you can into a rough rectangle and start running it through the pasta machine. Keeping it continually floured, roll the dough out working from settings 1 - 6/7 (it is best at setting 7, but is fragile and quite hard to handle). See my tutorial on handling

homemade filo dough

.

Lay the long, thin dough sheet on a lightly floured worktop and distribute about an eighth of the filling down the middle. Fold one long edge over the filling, then roll it over onto the other edge to make a rough tube.

Cut the tube in half (this will make it easier to lift) and coil each piece in the bottom of a buttered baking dish, working from the outside in to make one layer.

Make the glaze by whisking one egg and the Turkish yoghurt together with a fork. Coat the top of the pastry with about half the yoghurt-egg glaze.

Bake for 30-40 minutes, until golden. Turn the pie half way through, reglazing once more with the egg-yoghurt mix.

Can be eaten hot - straight out of the oven, at room temperature or cold - straight out of the fridge. All ways were EPIC!
Notes
You can coil the pastry in any dish you like, or even roll them up in individual spirals on a baking sheet. I used one 30cm quiche tin.
This pie is so very delicious that I strongly advise you to double this recipe.