This roasted aubergine dip recipe is both super healthy and incredibly delicious – it will have you looking at aubergines in a whole new way. Made with roasted aubergine purée, Greek yoghurt, crushed garlic and fresh lemon. A fantastic party dip.
I originally posted this recipe when I first started my blog, when my photography skills were, quite frankly, wanting. It is such an important dish in my life, I really didn't feel like that post did it justice, so I decided to give the post a little fluff, take some nice pictures and post it again.
So this is life-changing recipe to share with you readers (I only give you the good ones!). I cannot believe that something with so few ingredients can taste this good. I first ate it at the home of a lovely Pakistani woman who served it as a raita as part of a vegetarian dinner feast. One bite and I knew at once I would be recreating it at home.

Although it initially appears to be similar to baba ghanoush, it is not really the same at all apart from the presence of roasted, puréed aubergine. This dip is made creamy with Turkish or Greek yoghurt, tart with fresh lemon and spicy with crushed garlic, all enhancing the delicate, earthy, smoky savouriness of the roasted aubergine. Combined in this flavour-bomb of a dip, the aubergine-hater in your life (there are plenty of them out there) will suddenly become enchanted. "This is aubergine??"
The aubergine purée called for in the dip is a great freezer-staple to have on hand. It has many, many uses. I use it primarily to make this dip because it is so unbelievably scrumptious, but I have also enjoyed it mixed into Thai and Indian sauces, dolloped onto pizza (or as a pizza sauce) and made into the almost equally delicious, baba ghanoush, to name but a few tasty applications. See the recipe for this below.
There are so many meals you can incorporate this dip into! As a cooling addition to a spicy meal. Or as part of a Middle Eastern-inspired spread. Or on sandwiches. Or with roasted vegetables. Or as a dip for pizza crusts. Or as a dip for almost anything! I like all the ingredients of this dip individually, but together they really, really, sing.
This will keep for at least a week in the fridge, maybe more. This could be made vegan with the use of soy yoghurt or similar, just make sure it's as thick as possible. Serve chilled with a drizzle of good olive oil.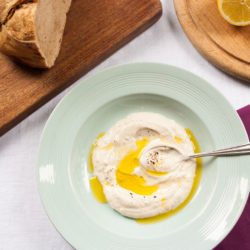 Roasted aubergine dip
Tangy, tart, spicy and savoury. A dip to go with almost anything.
Ingredients
Aubergine purée
aubergines

as many as you have

salt

to taste

lemon juice

freshly squeezed, to taste
Aubergine dip
200

g

aubergine purée

see recipe below

1/2

lemon

juiced, or to taste

150

g

Greek/Turkish yoghurt*

1-2

cloves

garlic

crushed

1/2

tsp

cumin

toasted & freshly ground, or to taste

1-2

tsp

sea salt

or to taste

2

drops smoke oil

optional, or to taste
Instructions
Aubergine purée
Prick whole aubergines all over (to stop them exploding!) and roast on 180c for about an hour. Whole aubergines are very flexible in the oven - you can cook them on a lower or higher temperature for a shorter or longer time. I have completely forgotten about them for hours and although they were somewhat shrivelled, they were still perfectly edible. I have it on good authority that they are even better when cooked over a lovely, smoky barbecue, but living in a flat I have not had the opportunity to test this and use smoke oil instead, as described above.

Blend in a food processor, then add enough salt and fresh lemon juice for it to take on some taste. It will still be a little bland but you can adjust it as necessary when you use it in future applications. Portion it up as you think necessary (I put about 200g in individual freezer bags) and freeze. It will keep, well packaged, for several months.
Aubergine dip
Blend fresh or defrosted aubergine purée with the yoghurt, then taste it. I have included general seasoning amounts about, but you should add the rest of the ingredients to taste as it will depend on your aubergines and your personal preferences.

In general, I would be heavy-handed with the salt and lemon juice, but add only a little cumin and even less smoke oil. The flavour of the garlic will really bloom in the fridge overnight, so bear that in mind when you're deciding how much to add - it can end up tasting very strong. When it is finished the mix should be wonderfully savoury and tart, with aftertastes of cumin and a little smoke. It should not actively taste salty, but should have enough seasoning to really bring out all the flavours. This can only be achieved with judicious use of salt.

Refrigerate until well chilled before serving.
Recipe Notes
* I have tried making this with regular fluid and set yogurt, both low-fat and full-fat, but it really isn't the same. They makes the whole thing too watery, so it really does require one of the semi-solid, 10% fat, Mediterranean yoghurts.