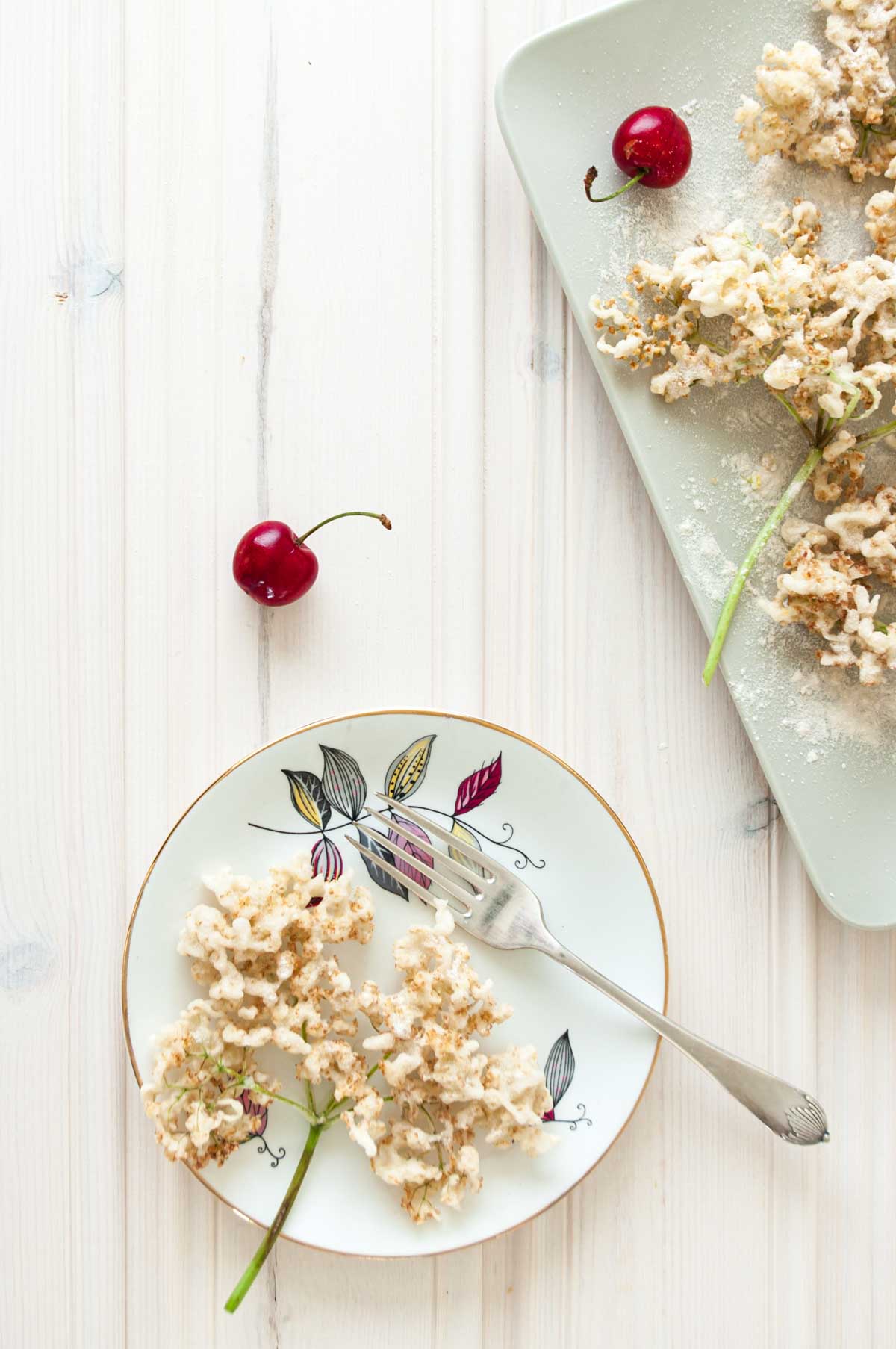 These elderflower fritters are a seasonal treat! Whole elderflower heads dipped in light tempura batter and deep-fried until crisp. Delicate, floral and not at all heavy, this spring dessert looks amazing dusted with icing sugar and served with fresh cherries.

One of the very nicest things about where my flat is located in Stockholm is the forest. It really feels like the space for houses was just carved out of it, and there are trees everywhere. There is consequently an abundance of birds, swooping, twittering and generally brightening up my day. Both my parents are committed bird watchers, and for that reason no doubt, I have always been skeptical as to the merits of both birds and binoculars. But late winter and spring last year, which I also spent in Stockholm, changed all that.
The severe, long snowiness caused me to take pity on the few birds that were managing to survive and I started putting out feed on our balcony. We soon had a nest or two of sparrows living in our roof. Whilst the very early morning tweeting severely irritated Leopold, I found it enchanting – what better alarm clock in the world to wake up to than the sound of new life. And I watched those sparrows grow up, right there on my balcony.

I had always thought them plain and boring birds, but really watching them as I did that spring, I began to find them absolutely beautiful. So many soft, velvety shades of brown, with little bright eyes constantly on the look out for both danger and the next meal. Darting all over the place, but always returning to our balcony, day after day. I even began to recognise them. Finding out that male and female sparrows take equal responsibility for all tasks associated with the raising of their young was the icing on the cake. My new, hands-down, favourite bird.
Now I don't have quite so close bird friends in my new place, but I know that they are there and I can see them streaking across the sky from my window often enough to be comforted by the presence of nature and the indefinably peaceful feeling that brings to the core of my being. What this verdant landscape also brings this time of year is elderflowers. Blooming they are, all over the place!

I certainly encourage you to pick your own elderflowers. They make themselves so very known with their huge, bright blooms and heady fragrance, it's hard to imagine mistaking them for anything else. One or two words of advice. Avoid picking flowers that grow near roads as they – like all wild food – pick up pollution that is best avoided. Also, if you pick the flowers in the morning, they smell much better. Finally, I have it on good advice that the flowers at the top of the tree are better than those towards the bottom – I have absolutely no idea why, perhaps a reader out there can enlighten us all?
Now I've never been one for cordial, which is how this perfumy, foraged flower is usually prepared in Britain. You need to add such a massive quantity of sugar that it starts to feel just like drinking a coke. I also find all that sweetness a bit sickly when combined with the distinctively floral flavours of the elderflower. But how could I resist them? They were crying out to be the feature of a lovely spring recipe.
I have always wanted to make a version of elderflower fritters, sometimes called elderflower tempura due to the lightness of the batter, as they capture the beautiful shape of the flower and are only as sweet as the extra sugar you sprinkle on them. But, being on a whole grain kick, I wanted to see if I could adapt them. And having lots of vegan followers, I wanted to make something for them as well (tempura batters typically contain egg).
So I started with a base of brown rice flour, as I knew rice flour was an excellent start in the search for long-lasting crispiness. To a 60% base of brown rice flour I added some non-whole grain potato starch to amp up the crunchy texture, and to bind it all together, a little white wheat flour. If you wanted to make this gluten-free, I think you could swap the white wheat flour with some buckwheat – I have tried this in the past and it worked well.
The result is a very light, delicate batter, which does not soften, even long after frying – I know this because I'm getting used to eating my food cold since I started this blogging lark! The flower flavour is subtle and not sickly at all. I think you do need the powdered sugar – I ground unrefined sugar in a Thermomix, and you could do the same in a cheap spice grinder if you fancied. The lightly caramel tones of the raw sugar really added an extra welcome layer of flavour.

By marvellous coincidence, my landlady came round today bearing this beautiful bouquet of wild flowers, including the fragrant elderflower, to congratulate me on The Guardian article (still one of the best things that has ever happened to me!). I love spring!
Elderflower fritters with cherries
A delicate, subtle way to enjoy elderflowers, another great bounty of spring.
Ingredients
4-6

elderflower heads

shaken free of insects

70

g

brown rice flour

40

g

potato starch or cornflour/starch

10

g

plain flour

or buckwheat for gluten-free

pinch

salt

170

g

water

plus a few ice cubes to chill it

1

litre neutral flavoured oil

I used sunflower

25

g

unrefined powdered sugar

fresh fruit

I used cherries, to serve
Instructions
Whisk all the ingredients, except the powdered sugar, together. Unlike with a regular tempura batter, there is hardly any gluten in this mix (or none if you make the substitution suggested), so you do not really have to worry about overworking the batter. There will be batter left over, but you need the excess to have enough to dip the heads in.

Heat the oil to 180c in a medium saucepan. This is best measured with a thermometer, although

you can gauge temperature in a number of different ways

if you are without. When the oil is hot enough, dip one flower head in the batter. The flowers will clump together, so use your fingers to separate them and hold them apart before dropping gently into the oil. You will probably be able to fry two at a time. When crisp and very lightly browned (a minute or two), use a slotted spoon to transfer the flower heads to kitchen towel to absorb the excess oil. Sprinkle with some of the powdered sugar. Repeat with the rest of the heads. Serve immediately.
Notes
You can reuse the frying oil. When it's cool, strain it and return it to the bottle. You can fry three or four times in the same oil, as long as you don't cook something very flavourful.