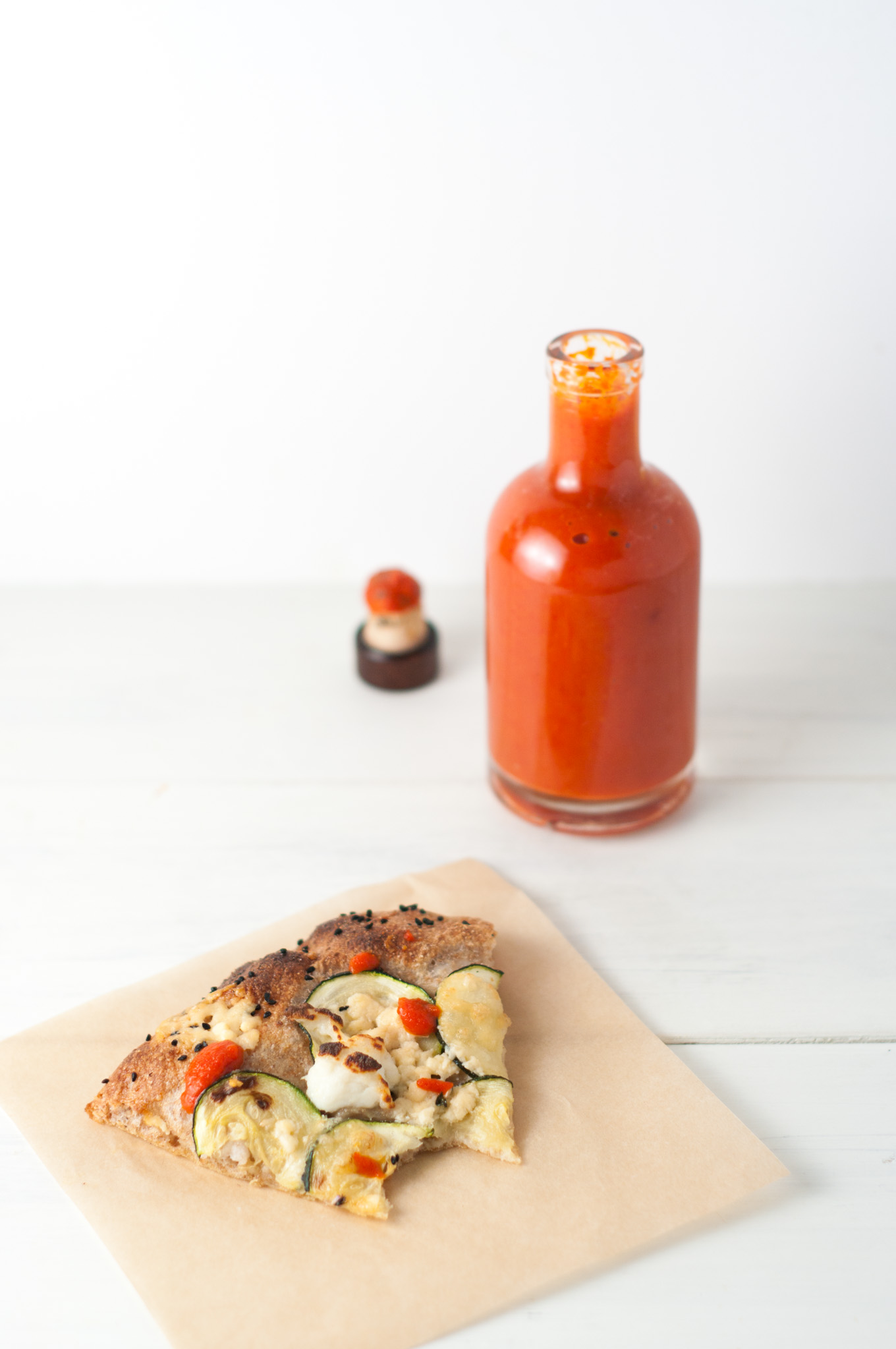 This homemade chilli sauce recipe blends plenty of hot red chillies and garlic with a touch of sugar, salt and vinegar for a sweet, tart, spicy sriracha taste sensation!
My partner Lee loves sriracha chilli sauce. No matter what food we prepare, no matter how delicately the flavours might be balanced, no matter how much chilli might already be in the dish – out comes the bottle for a quick dousing. Having watched that plastic bottle moving around my fridge for the past few years, the time finally came to have a go at making it.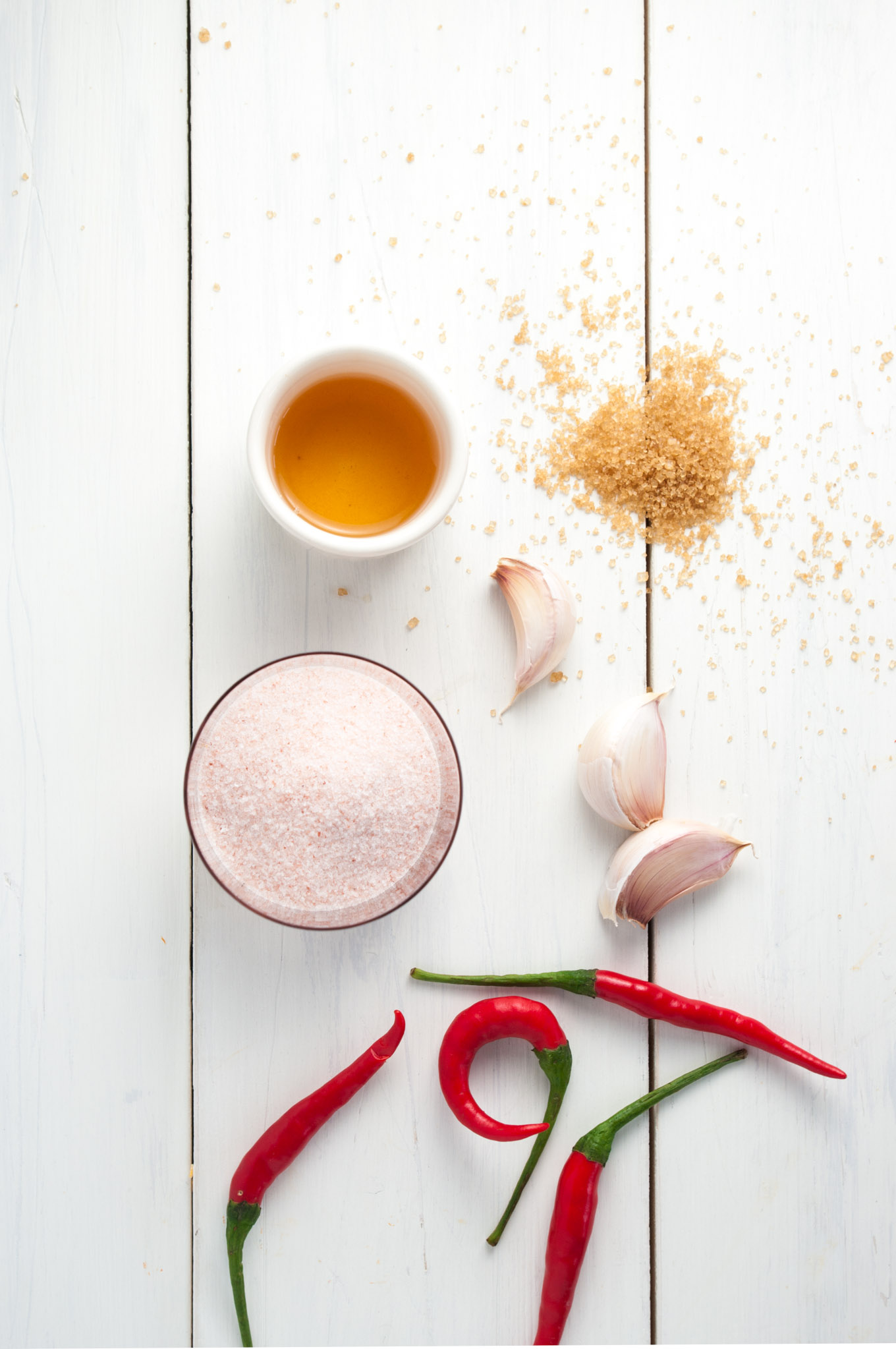 These types of chilli sauce usually call for red jalapeños, but they are very difficult to find in the UK, so I went for my favourite go-to hot chilli – Thai bird's eye chillies. They can be found in large packets in Asian shops (or in much smaller, more expensive packets in your favourite supermarket) and they pack a fragrant, floral, fruity punch. You can substitute pretty much any chilli you want if these are unavailable, just remember that the spicier the chilli, the spicier the sauce (and vice versa). If you use very mild chillies – so often what is available in the UK – then your sauce will also be very mild. Generally I opt for the tastiest chilli that can be bought reasonably in bulk, whatever that happens to be in my locale.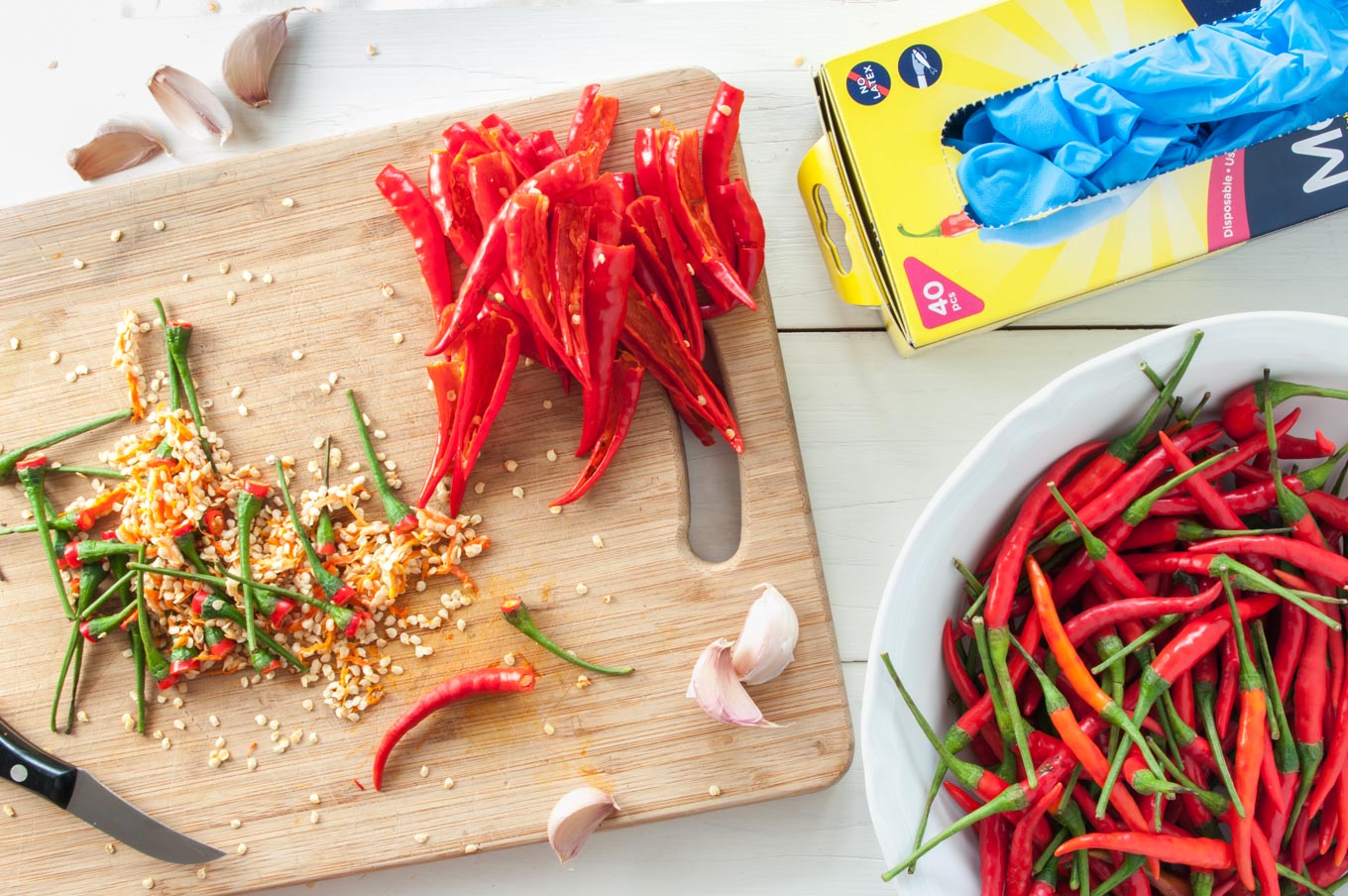 The only really taxing part of this recipe is deseeding the chillies. Even pretty mild chillies will need deseeding when used in these quantities and concentrated as they cook down. So for my fiddly, narrow bird's eye chillies I enlisted Lee's help – well he will be the one doing the vast majority of the eating!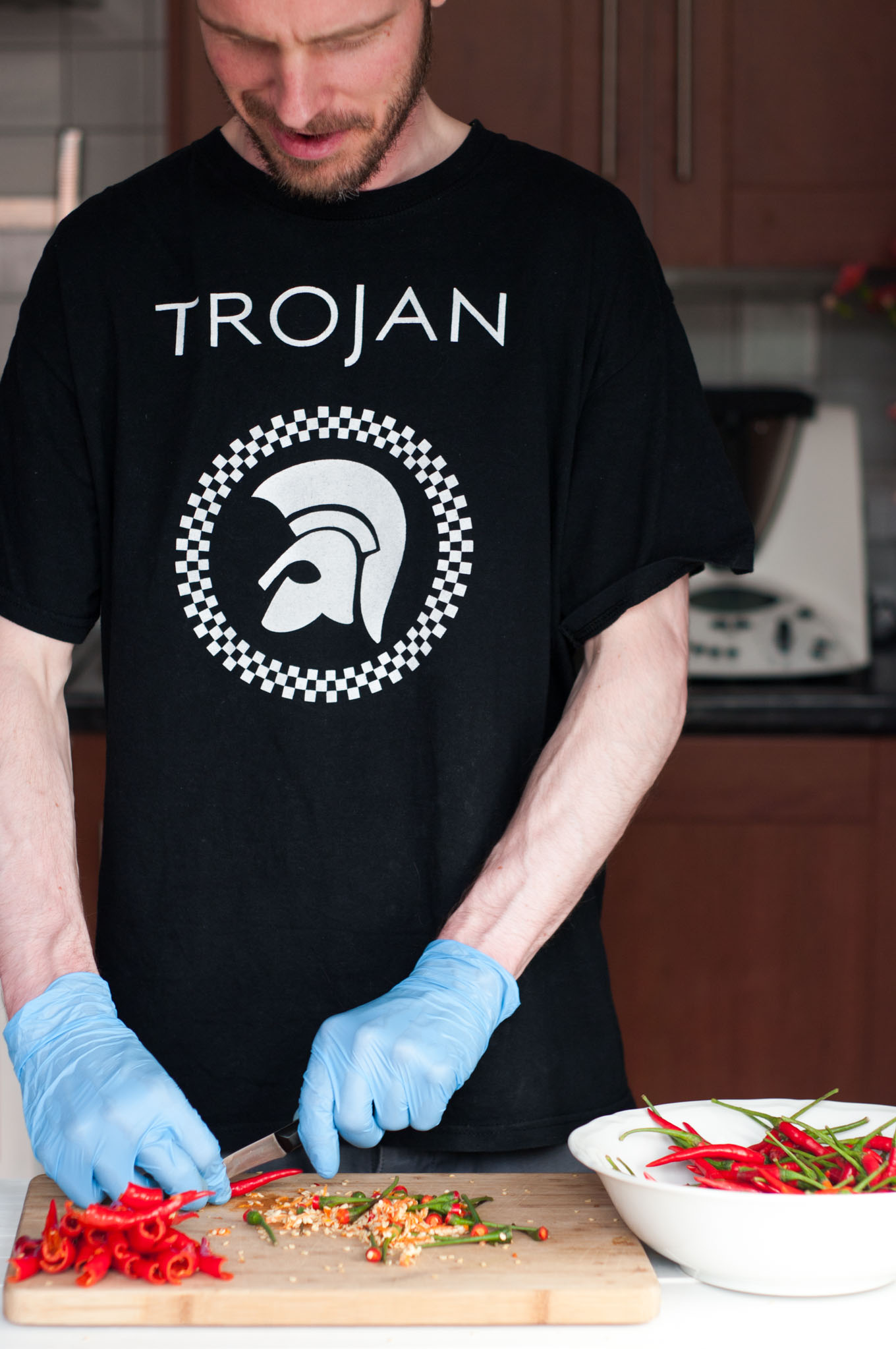 A recipe like homemade sriracha, one that calls for cutting, scraping and generally fiddling with large amounts of fresh chilli, is one that I would always use gloves for. I have tried without – think days, yes DAYS, of deep, burning chilli pain, especially under the fingernails. Chilli pain where no cooling, neutralising yoghurt or crème fraîche can reach. And just when you think you're safe, a little brush of the finger near the eye and BAM!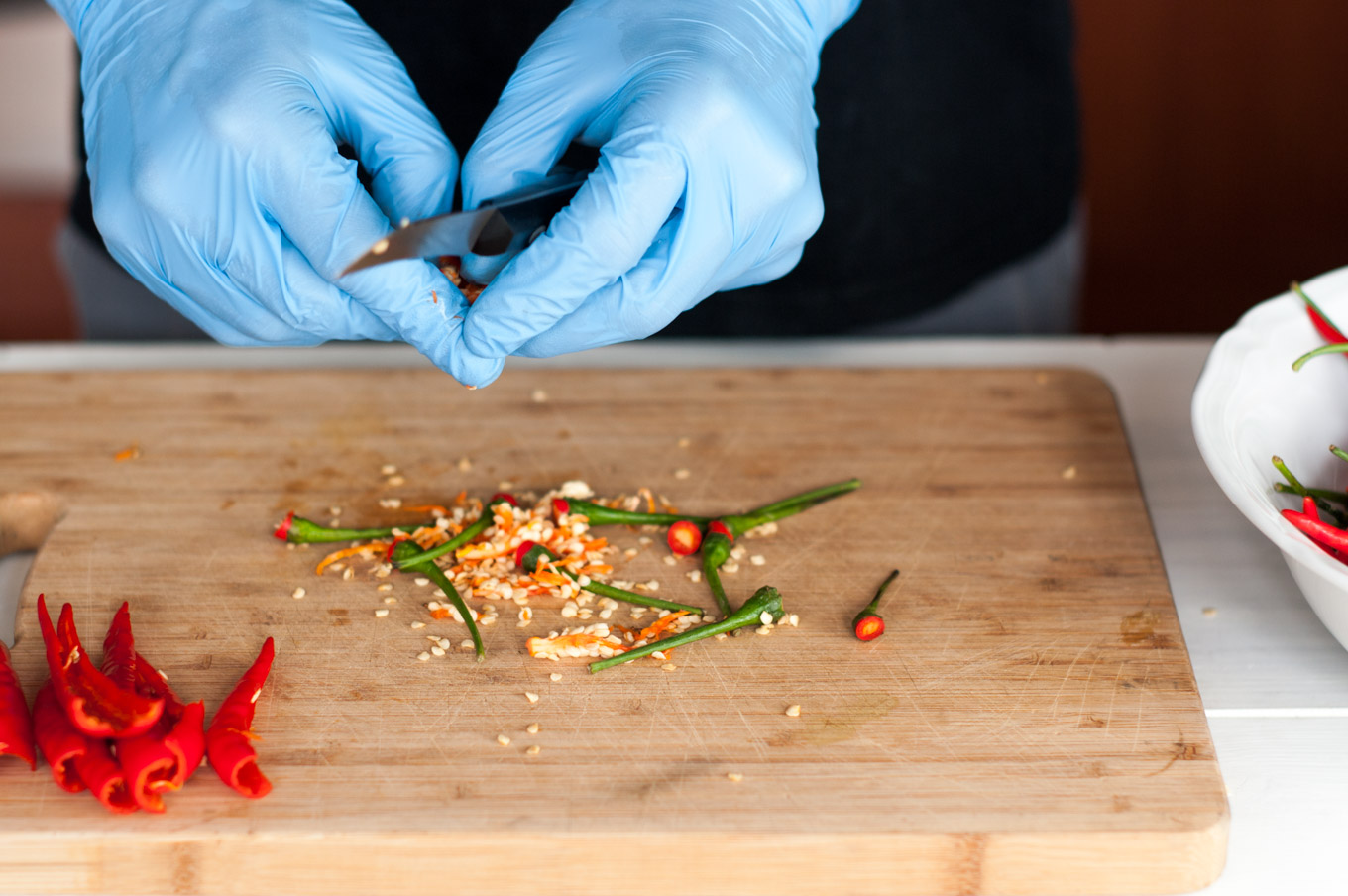 Working with such spicy chillies, I removed all of the seeds and membranes from all my chillies, but if you're working with less spicy chillies, you may want to leave some as-is.

This homemade chilli sauce is best made with a high-powered blender – if you do, there will be no need to sieve the sauce before bottling – but if you don't, just blend it as well as you can with what you have and sieve out any bits you don't want in your sauce. I would do this after cooking, as those bits will add flavour to your sauce.

A spicy, tangy, sweet, tart, fruity, homemade chilli sauce for you to dab, drizzle and dollop over absolutely everything.
Homemade chilli sauce
This homemade sriracha recipe blends plenty of hot red chillies and garlic with a touch of sugar, salt and vinegar for a sweet, tart, spicy taste sensation!
Ingredients
homemade chilli sauce
400

g

red bird's eye chillies

10

fat cloves

garlic

200

g

water

70

g

apple cider vinegar

60

g

raw sugar

1

tbsp

fine sea salt
Instructions
for the chilli sauce
Trim the stalks of the chillies and deseed – slice each chilli down its length, open up the chilli and scrape out the seeds with a teaspoon. It's important that you wear gloves for this task! The build up of chilli juice on your hands from these quantities will make your hands burn for days – DAYS!

Add all the ingredients except the sugar and salt to a high powered blender or food processor and blend until smooth. If your food processor isn't quite up to par, don't worry! You can sieve out any larger pieces after cooking.

Add the chilli mixture, the sugar and salt to a large saucepan and bring to the boil. Reduce the heat and simmer gently, stirring fairly regularly to stop the bottom sticking and burning. The sauce is done when the mixture is reduced and thickened, about 20 minutes of simmering. You can decide now how thick you want your sauce to be – add a little extra water if you want to thin it, or simmer a little longer if you want it thicker. Taste the mixture – this is quite a hard one to sample as it's pretty spicy and your palate will become blown out after a few tastes, but someone's got to do it! I added a little extra salt (1/2 teaspoon) and vinegar (1 teaspoon) for my tastes, but yours will be different. You might want some extra sugar, but for me the chillies were pretty sweet themselves.

Fill the bottle or jar you want to store your sauce in with boiling water and leave for 10 minutes. If you have used a high-powered blender, just decant the sauce into this clean bottle (a funnel is very useful here). If your blender wasn't quite able to purée the sauce and it still looks a little chunky, press it through a fine mesh sieve before bottling. Store in the fridge – it will last for several months.