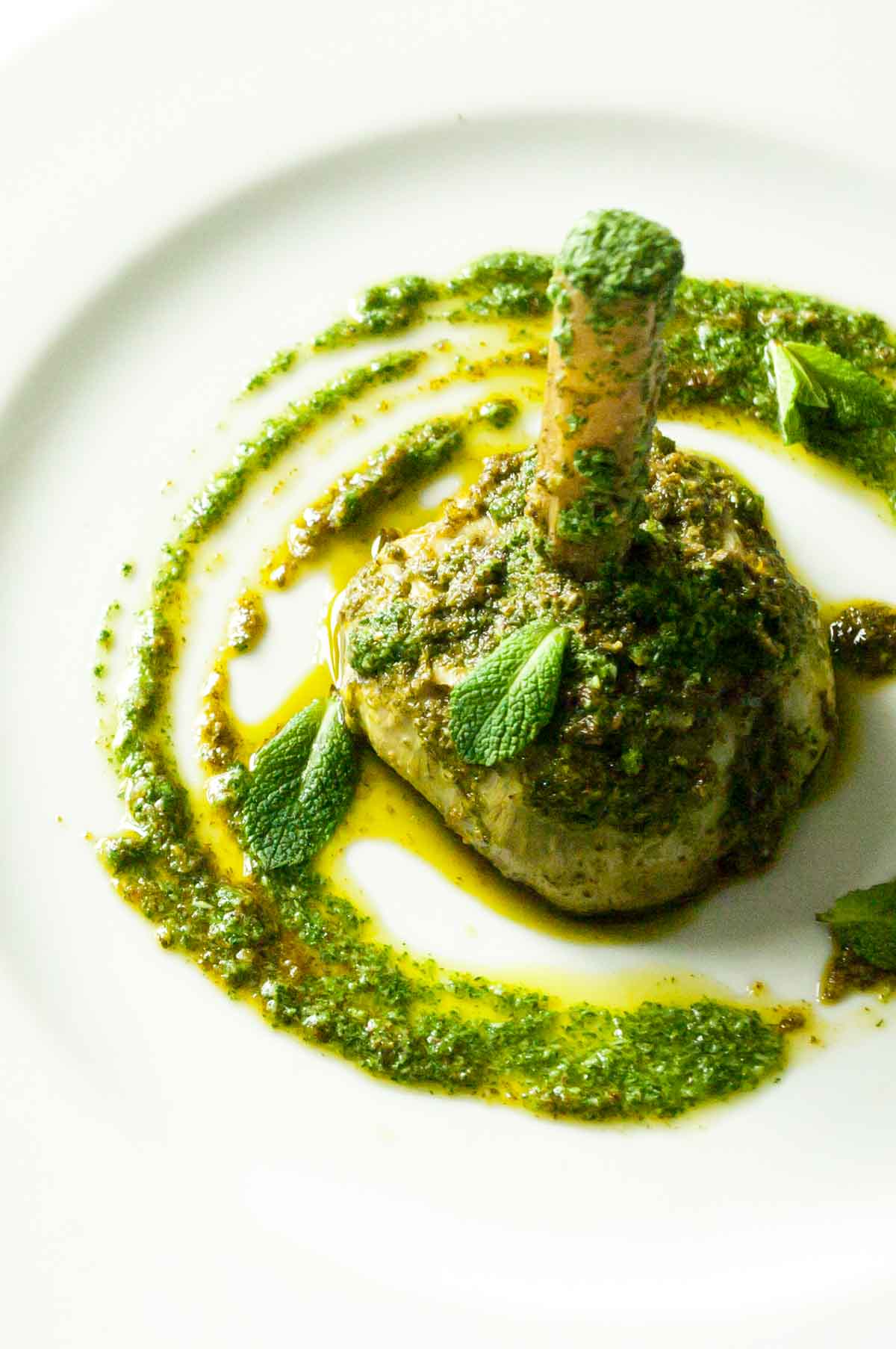 Artichokes with mint pesto (carciofi alla Romana) is a speciality of Rome, Italy. Whole, braised artichokes, steamed in mint pesto with plenty of fruity olive oil. With incomparable flavour, they make a truly lovely vegetarian starter.
I developed a fulsome and, frankly, obsessive love of artichokes during my time in Rome (read about my once-in-a-lifetime trip here). I cannot get enough of this remarkable vegetable. Although I have been eating them for years, I never really got them. I had always eaten them the French way, steamed until tender, then dipped/slathered in shiny, super-garlicky aïoli.

Nice enough, but not a patch on the multiple preparations I experienced this winter in Italy – deep-fried, braised, roasted, sautéed. Marinated in fresh mint pesto or glistening with lush green olive oil. I'll take them ANY which way.
So I bring you the recipe for one of the most amazing things I tasted during my time there – carcofi alla Romana. Fresh, firm artichokes, stripped back to their tender core, stuffed with fresh mint and garlic pesto, then steam-braised in lashings of iridescent green olive oil. The flavour is herbal and delicately metallic, the texture meltingly soft and silky. Incomparable.
The dish begins with a quick, fresh, mint pesto. I used to think that pesto was a somewhat complicated affair that required buying special ingredients and following a recipe. Then I realised it actually took all of five minutes, and that dish after dish could be transformed with a big handful of herbs, a glug of olive oil and a couple of cloves of garlic.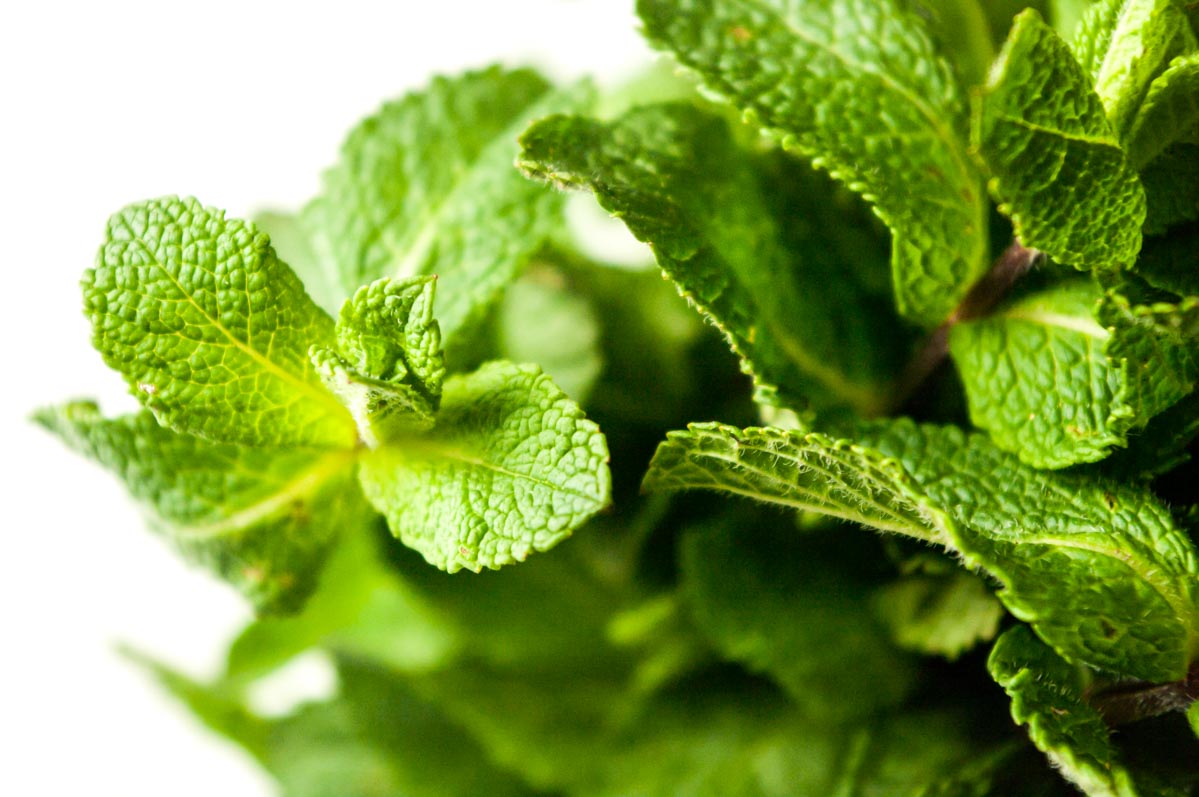 It's not really even cheaper to buy it in a jar, especially if you can find a shop that sells herbs by the bunch, rather than the sprig. And what a flavour difference! The jarred alternative isn't really recognisable as the same food in comparison.

Although it wasn't added to the traditional Roman preparations I tasted, I always include a little lemon juice in any pesto I make. It serves several valuable functions. Firstly, it keeps the pesto bright, glorious, green. The acid in the lemon counteracts the darkening effects of oxygen on the cut herbs and stops them turning the colour of sludge (read more about this here). Secondly, it adds an always-welcome boost of antioxidant rich nutrition (read more about the fabulous health benefits of lemon here). And last but not least, the extra vitamin C helps your body better absorb the various vitamins and minerals found in artichokes. Triple yum!
Steaming vegetables in their own juices and water is one of my favourite cooking methods. Nothing is leeched away, all the flavour is retained. And there are less cooking steps and less pots required by the recipe. Just be careful to avoid that scalding steam when opening them up!
These artichokes can be served in a multitude of ways. As a light, elegant first course. With something like polenta or rice for a more substantial dish. Or as an impressive side dish. What ever you do decide to serve them with, try to avoid overpowering the artichoke flavour with many other contrasting ingredients. It is so unique and delicious by itself – let it shine!
Does anyone know of any other delightful ways to prepare artichokes? I have a couple more recipes for this remarkable vegetable coming up, but I'm always excited to hear of alternatives!
Artichokes with mint pesto
Artichokes stuffed with mint and garlic pesto, steam-braised with olive oil until meltingly tender and silky.
Ingredients
Mint & Garlic Pesto
1

large bunch fresh mint

leaves only

5

cloves

garlic

peeled

2

tablespoons

freshly squeezed lemon juice

6

tablespoons

extra virgin olive oil

more if needed

salt and pepper

to taste
Steam-Braised Artichokes
4

artichokes

trimmed but not halved (see guidelines here)

4

tablespoons

extra virgin olive oil
Instructions
Make the pesto by blending all the ingredients except the artichokes (I used an immersion blender), adding more olive oil as necessary to make a glossy purée. Taste the pesto and adjust the seasoning as necessary. It should be strongly flavoured and a touch salty.

Try to loosen and spread the leaves of the artichokes out a little with a spoon to make some room for the pesto. Stuff about half of it between the leaves of all the artichokes as best you can. Reserve the other half.

Add the olive oil to a pan large enough to hold the artichokes flower-side down and start to heat gently over a medium-low heat. Add the artichokes and drizzle over about half of the reserved pesto (the rest will be used after they have cooked). Cover with tin foil and a lid and cook for about 30 minutes.

It is better if you don't peek during cooking time, but if you sense the pan is heating up too much, turn the heat to low - this will all depend on your cooker. You want the artichokes to cook very slowly and gently, without either the flowers or the pesto catching on the pan. The water evaporating from the artichokes will help avoid this, but the heat should be kept low after the pan has heated up and started to steam.

When the time is up, remove the lid and tin foil, avoiding the extremely hot steam that loves to shoot out. Check the artichokes are completely softened and tender by sliding a knife inside one and by trying an outer leaf.

Transfer the artichokes to a serving dish or individual plates and drizzle over the remaining pesto. Take care when moving the cooked artichokes as they are very, very soft - particularly the stem - and could come apart. Serve hot.
Notes
I spent a lot of time watching people prep artichokes during my time in Rome and not once did I see them remove the choke. It seems that if you cook them long enough, the choke thistles soften and become pretty much indistinguishable from the delicious flesh. Meaning less prep!