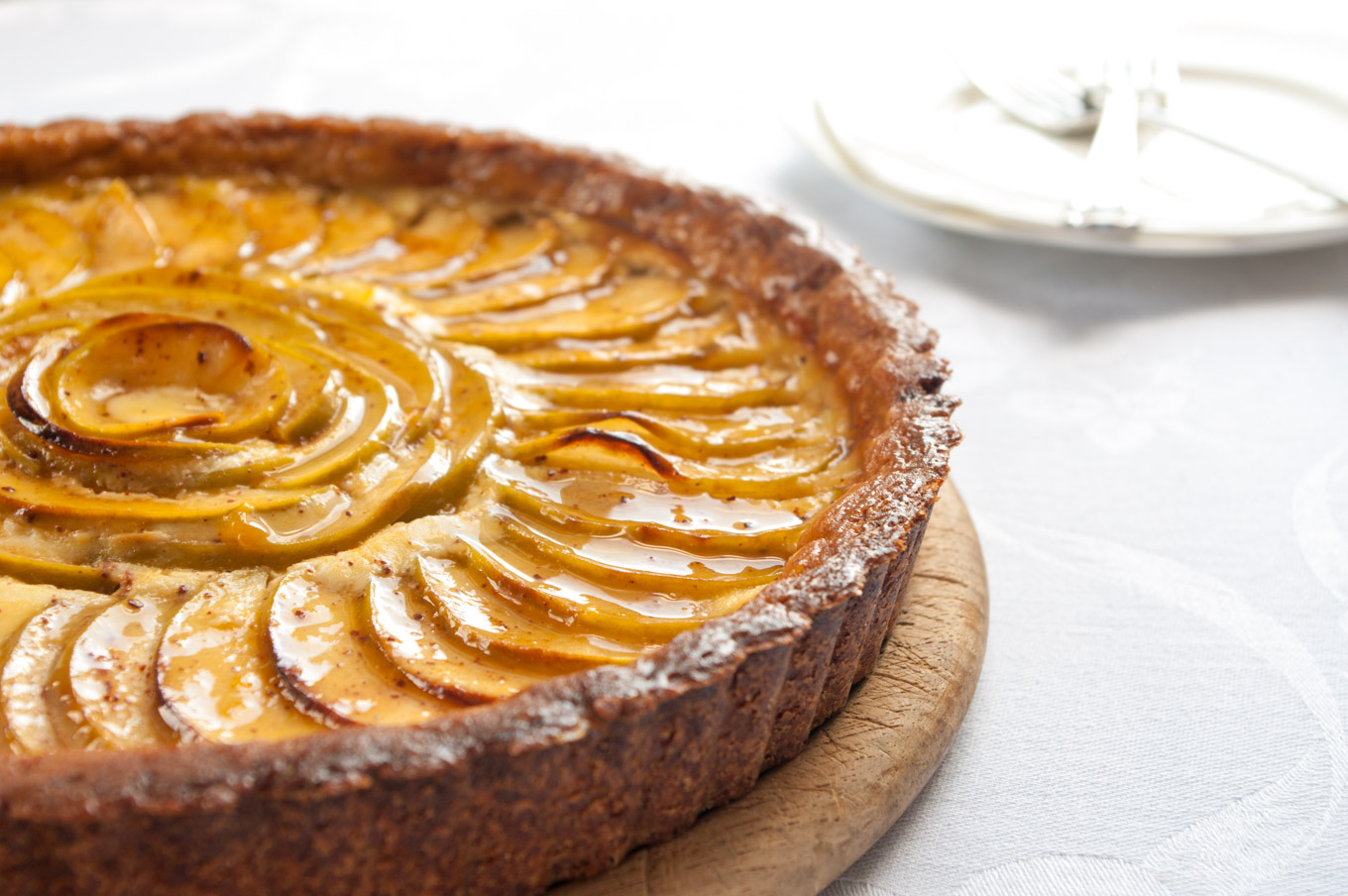 This apple cheesecake tart has a sugared-almond crust topped with a creamy cheesecake layer, tart apples and a salted caramel glaze.
This recipe comes from one of my favourite books, the inspirational Organic & Chic, by New York cake designer, Sarah Magid. Coming from someone who doesn't even really like apple tarts, it is a taste sensation. A sugar-almond crust, a layer of vanilla-cream cheese custard and fine slices of tart Granny Smith apples. My embellishment – a glossy, salted caramel glaze.

The pastry is the first really delicious element of this apple cheesecake tart. Made with a base of ground almonds, it is a crumb pastry that is pressed into the tin – it does not need blind-baking. When cooked, it is firm, crunchy and holds together beautifully with nutty, caramel tones. You can use one large or several small loose-bottom tart tins for this recipe, depending on your preference. The tart should pop out of both with a little jiggling.

The filling of the apple cheesecake tart is one of the things that makes this recipe for me. It is what elevates this from a mere French apple tart to something transcendent. A sweet, custardy mixture of cream cheese, vanilla and a little egg, when baked it is lightly set, creamy and smooth. A very pleasant surprise under the top layer of tender apples.

Tart Granny Smiths form this fruity topping, tossed in a little lemon juice and brown sugar beforehand to soften and sweeten, and to stop the sliced apples discolouring while you work. Thinly sliced, the apples are layered to form a beautiful rose pattern – both easy and quick to achieve – which looks stunning and complex.

The final, decadent touch to this apple cheesecake tart is a quick, salted caramel brushed over the apples, lending them a beautiful, glossy shine. Thanks very much to Smitten Kitchen for the inspiration behind this fabulous glaze.

Rich, sweet, fruity, nutty, salty, creamy and tart. What more could you want in a luxurious dessert?
Apple cheesecake tart
A stunning, elegant tart, with layers of beautiful texture and flavour. Tart apple, creamy cheesecake filling and a salted caramel glaze, all beautifully arranged on nutty almond pastry. A luxurious dessert.
Ingredients
Sugared Almond Crust
120

g

butter

softened

120

g

raw sugar

1

teaspoon

vanilla extract

200

g

plain flour

50

g

ground almonds
Vanilla Cheesecake Custard
225

g

plain

full-fat cream cheese, softened

50

g

raw sugar

1

large egg

lightly beaten

1

teaspoon

vanilla extract
Apple-Cinnamon Topping
3-4

Granny Smith apples

50

g

raw sugar

1/2

teaspoon

ground cinnamon

juice of half a medium lemon
Salted Caramel Glaze
50

g

sugar

30

g

butter

1

good pinch sea salt

2

tablespoons

double cream
Instructions
Crust
Using a stand mixer or handheld electric whisk, cream the butter, sugar and vanilla together until lightened. By hand, gently mix in the flour and almonds. Press the resulting crumbs into a 25cm loose-bottomed tin (or several smaller ones if you have decided to make individual servings).
Custard
Using a stand mixer or handheld electric whisk, cream together the cream cheese and sugar. Add the egg and vanilla and mix to completely combine. Pour into the prepared (uncooked) crust.
Apples
Slice the apples as thinly as possible - a mandoline is good for this. Toss gently in the sugar, cinnamon and lemon. Leave to soften for 10 minutes or so. Arrange in a layer on top of the custard. Start by laying overlapping apple slices all the way round the edge. Next create the 'rose' - arrange the slices in a spiral, standing the apple slices a little on their edge, until the centre hole is completely filled in. Save the smallest, thinnest pieces for the very centre as they will have to bend the most. Cover the tart with tin foil and bake in a preheated oven set at 190c for 30 minutes (this step helps soften the apples). Remove the foil and bake for 15-25 minutes longer, until the custard is puffed and the apple edges are lightly browned.
Glaze
When you take the tin foil off the apple tart, start making the glaze.

Melt the sugar in a small saucepan over medium-high heat and cook until rich and golden.

Add the butter and salt and stir to combine. Add the cream and continue to cook, stirring constantly, until the ingredients have formed a smooth, unified caramel. When the tart looks nearly ready, remove it from the oven and brush with the glaze. Return to the oven and cook for a further few minutes until the glaze is gently bubbling. Cool to room temperature.
Notes
Can be kept in the fridge for several days - store in the baking tin and wrap well.